Main – News
South Dakota Section of The Wildlife Society presented the 2015 Wildlife Professional of the Year award to Dennie Mann
at their annual conference in Chamberlain.
Wildlife Professional Award – Presented annually to a wildlife professional who has, over the course of their career, made an outstanding contribution to wildlife management in South Dakota.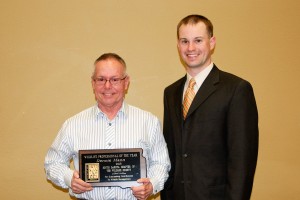 Dennie's career began in Chamberlain as a habitat technician, 14 years as Conservation Officer in Murdo, 8 years as Assistant Regional Supervisor in Rapid City, and 13 years as Regional Habitat Manager.  Dennie continues to work for conservation as vice president for SDRC&D, Pennington County Weed Board, Executive Director of BHRC&D, Public Lands Chairman for SDTWS, Board of Directors for the Greater Dacotah Chapter of Safari Club International, Executive Director for SISMA.
Conservation and volunteering run in the family as Mary Ann received the Citizens Award – Presented each year to a South Dakota resident who has made a significant contribution to wildlife in the state for 2013 from SDTWS and received the Citizens Award from Central Mountains and Plains section of TWS for 2014.