Lower James RC&D
The Lower James Resource Conservation and Development (RC&D) Association, Inc. was established by 30 area sponsoring organizations in 1974, and became a 501©(3) non-profit regional organization in 1991. Lower James RC&D serves citizens in the seven South Dakota Counties of Aurora, Davison, Hanson, Hutchinson, Jerauld, Sanborn, and Yankton.
Members of the Lower James RC&D meet bi-monthly and function as a Council in adopting and completing Council approved projects under approved by-laws. The Lower James RC&D Association developed this 5 year area plan (2011-2015) to document priority needs in the seven county area, and establish goals that will guide the association's activities to meet the identified needs.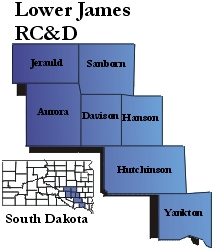 MISSION STATEMENT
Economic Development that is Natural Resource and Community Sustaining.
VISION STATEMENT
To be a regional grassroots team of local leaders recognized for quality support and services that empower area citizens to be successful and innovative in leadership, to shape the future of their communities.